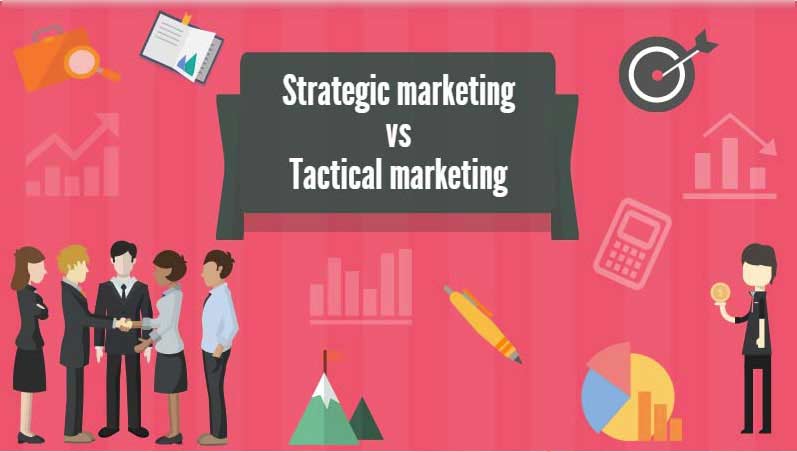 Choosing the right marketing mix is difficult for any company. Others may prefer to survey their options and build a thorough plan before doing much of anything.
Tactical and strategic marketing are two distinct approaches. Knowing how to best leverage both is a huge advantage whether an organization is starting from scratch or simply trying to boost existing marketing efforts.
What is Tactical Marketing?
What is Strategic Marketing?
Which is better?
What is Tactical Marketing?
Digital marketing tactics can range from email blasts to blogging, organic social media posts to Google Ads. Tactical marketing means focusing on each component. Examples of common digital marketing tactics:
Blogging: Keeping a blog updated can help with SEO (search engine optimization). A company's products or services will rank higher if its SEO efforts are successful.
Email Marketing: Consistent email newsletters can engage customers. Remarketing is a form of email marketing where people who have previously interacted with an organization's site (like adding something to their cart but not checking out) receive reminders of their previous interest.
Ads: There are numerous digital ad options. Paid social and paid search are popular. Google Ads is a unique beast, and every major social network has a way to reach potential customers.
Organic Posts: Like social ads, building an organic social following with the right message can be effective.
What is Strategic Marketing?
The big picture in strategic marketing Instead of focusing on specifics, strategic marketing takes a broader view. This type of marketing involves setting goals, coordinating with other departments, and developing a message.
A successful marketing strategy also includes research. Before creating a digital marketing strategy, it's critical to understand the possibilities, tools, and trends in the industry.
Some people struggle with research when attempting strategic marketing. A steep learning curve may exist. Rather than struggle alone, some choose to hire digital marketing experts. Having a knowledgeable team can help you choose the best goals, techniques, and messages.
Which is better?
In the end, both types of marketing work together. Ignoring one or the other is a surefire way to sabotage a marketing campaign.
An overall strategy ensures tactic cohesion. This can only be achieved by looking at the overall strategy. A business needs a goal to work towards in order to measure its digital marketing success.
But no organization will achieve its goals unless the tactics that support the strategy are implemented. Many businesses decide to try Google Ads or email marketing and start building campaigns right away. Getting into the weeds may seem like a quick way to get results, but it is a waste of time and resources.