Adopting a referral program is the quickest and cheapest approach to receive highest quality customers. Dropbox grew 3900% with a simple referral scheme. Tesla, too, has a recommendation program.
Referral Factory
Ambassador
Referral Candy
Friendbuy
VYPER
Referral Rock
Extole
InviteReferrals
InviteBox
Genius Referrals
Referral Factory
Referral Factory has over 1,000 referral program templates for businesses and nations worldwide. They have 18 languages, tons of integrations, and…a referral program!
Ambassador
Customers, influencers, and affiliates can effortlessly join tailored referral campaigns. Companies may also manage all ambassadors in real-time and optimize referral campaigns. Incentives for different campaign segments can be offered and tested using Ambassador.
Referral Candy
Referral Candy is an excellent consumer referral scheme for newbies. It was one of the original referral tools . The web app is for online shops to increase sales. It works with Amazon Webstore, Etsy, Shopify, Magento, and others.
You may quickly personalize the program and incentives, and change the design of things without developer assistance. The easy-to-use dashboard displays campaigns, analytics, and contacts, and allows you to generate reports on how well your campaign is performing.
Friendbuy
They specialize in email capture widgets and referral marketing. Marketers can create campaigns and track results. It's a potent referral engine for any business.
The API is also useful for businesses. With Friendly, you can go beyond generic referral programs and turn any concept into an income generator.
VYPER
VYPER is a marketing tool for creating viral campaigns. Viper software lets you create Referral campaigns, Reward/Loyalty programs, and Leaderboards.
Incentives, engagement, and "shareability" are all encouraged by gamification. The customizable builder makes creating branded campaigns easy. You can display your campaigns as a website chat widget, landing page, or embed form, or utilize all three simultaneously.
Referral Rock
Referral Rock promotes businesses through word-of-mouth. Customers may easily share your business by using features like one-click access and sharing to social media, default sharing messages, and dual-side rewards.
Easy campaign setup, email notifications, and one-step Google Analytics are all features of the referral program software. Automatic referral attribution and linked referral widgets can help grow referral marketing.
Extole
Extole's referral marketing platform helps users gain more clients. Construct an effective acquisition channel with Extole's turnkey SaaS platform. They have influencers, ambassadors, drop-a-hint, and friends & family.
Your referral campaign will be successful if you use their platform to target precisely, capture trust, and influence and attract new consumers via social media. Extole powers referral systems for Vistaprint, Petco, Shutterfly, and other companies. Extole is an enterprise solution for big expenditures.
InviteReferrals
InviteReferrals provides entire referral strategy, design, and implementation. The software claims to measure everything from referrers, invites, referral visits, and referral installs to top influencers in one single dashboard.
You can launch prize campaigns, top referrer contests, and goal-based client referral programs.
InviteBox
InviteBox is a referral marketing program that allows businesses to easily establish quick rewards and prizes. The platform has all the technologies you need to launch a referral program in one.
Marketers simply set up their referral program and add the widget code into their website. The remainder is handled by InviteBox.
Genius Referrals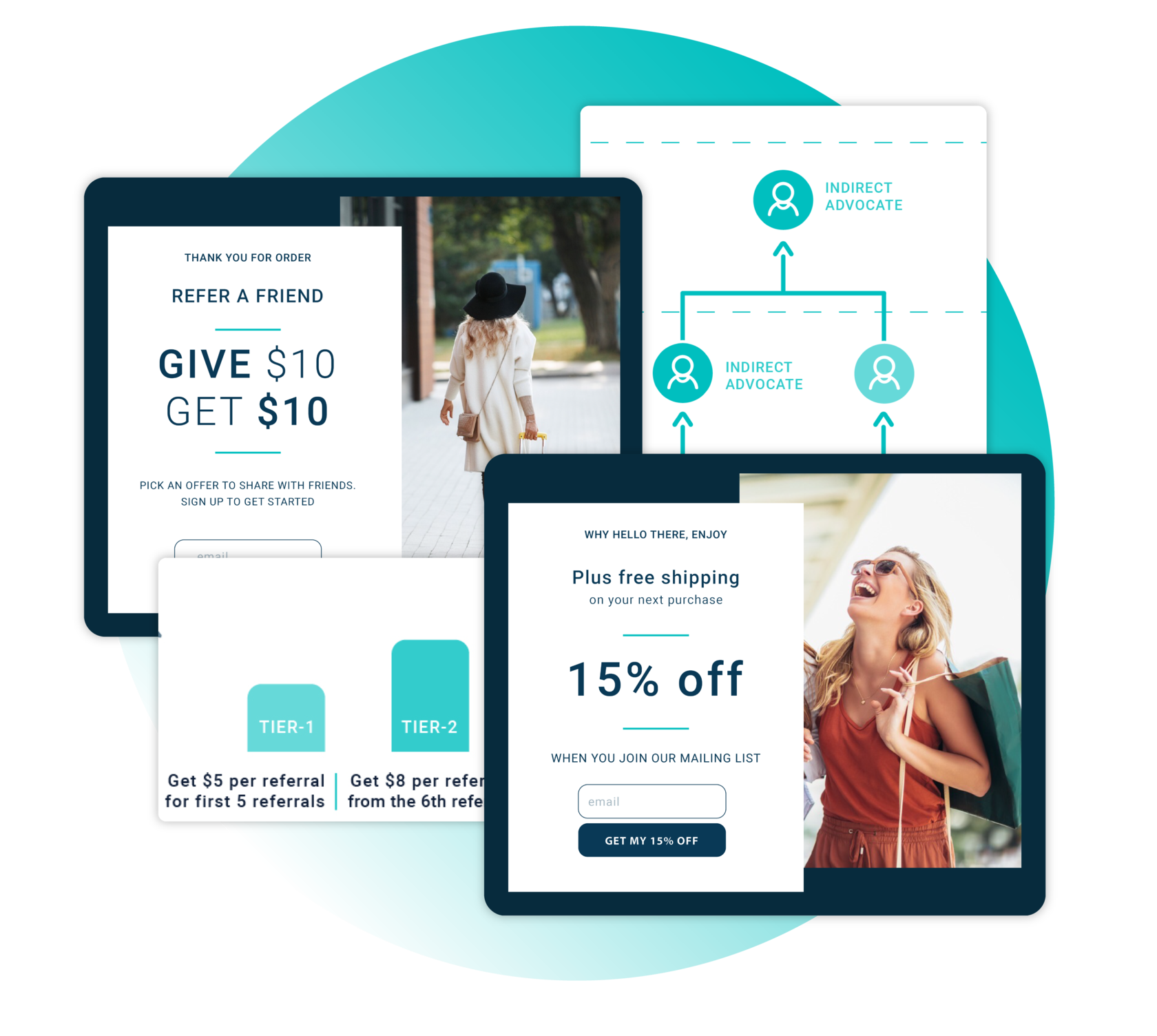 With Genius Referrals, marketers can create a referral program template in just 10 minutes. The software provides seamless connectivity and sets up referral programs in minutes.
There are additional alternatives for organizations to tailor programs, such as flexible campaigns with several currencies and tier restrictions.